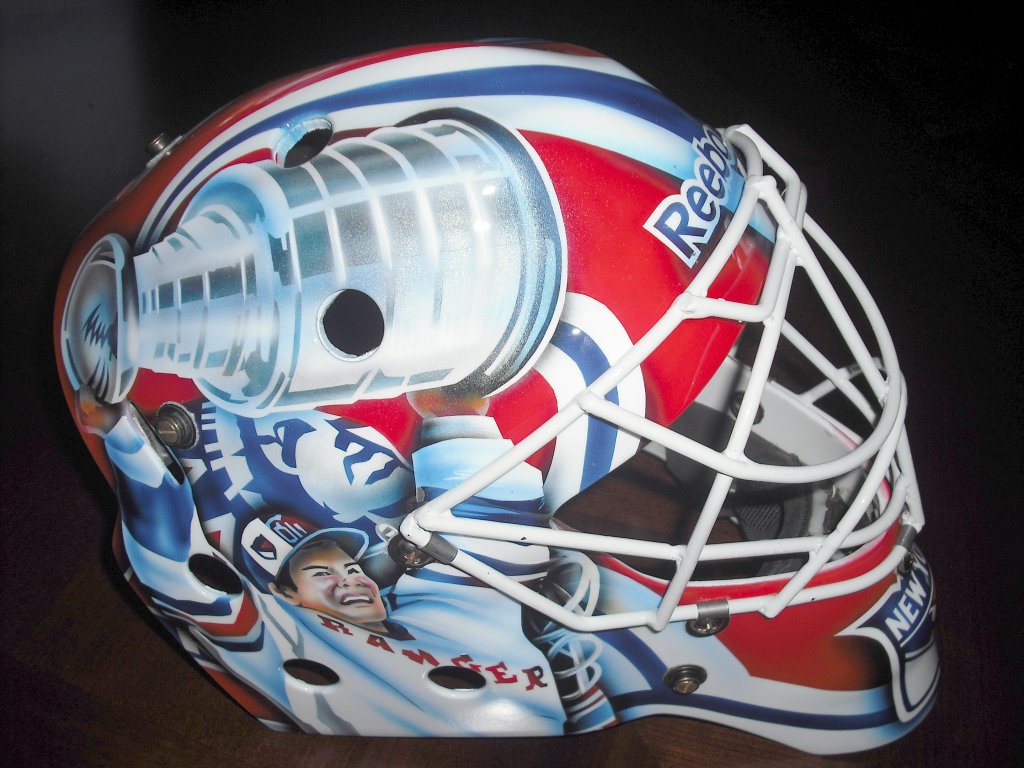 Alex Auld New York Rangers Tribute Mask - March 2010

Marlene has just created this new mask for Alex Auld, which is a tribute to some NYR legendary goalies, including Ed Giacomin, John Davidson and Mike Richter.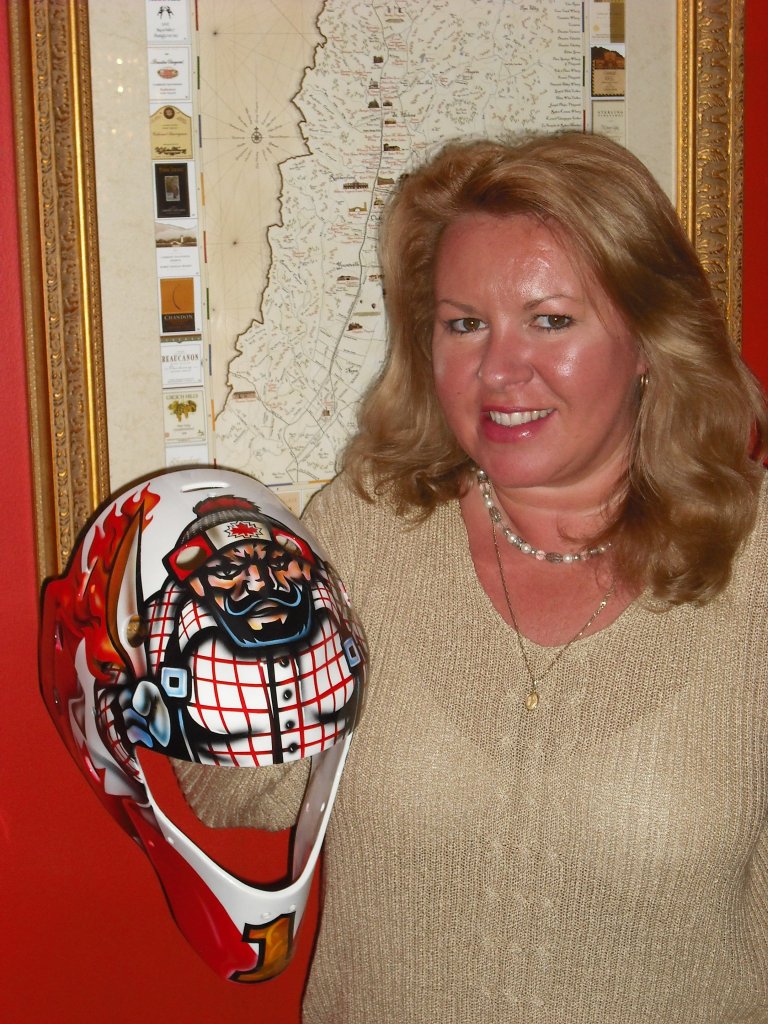 Roberto Luongo's 2010 Olympic Mask - February 2010

Roberto Luongo's latest mask design for the 2010 Vancouver Olympics, is an adaptation of his Vancouver Johnny Canuck creation by Marlene, with some Olympic twists.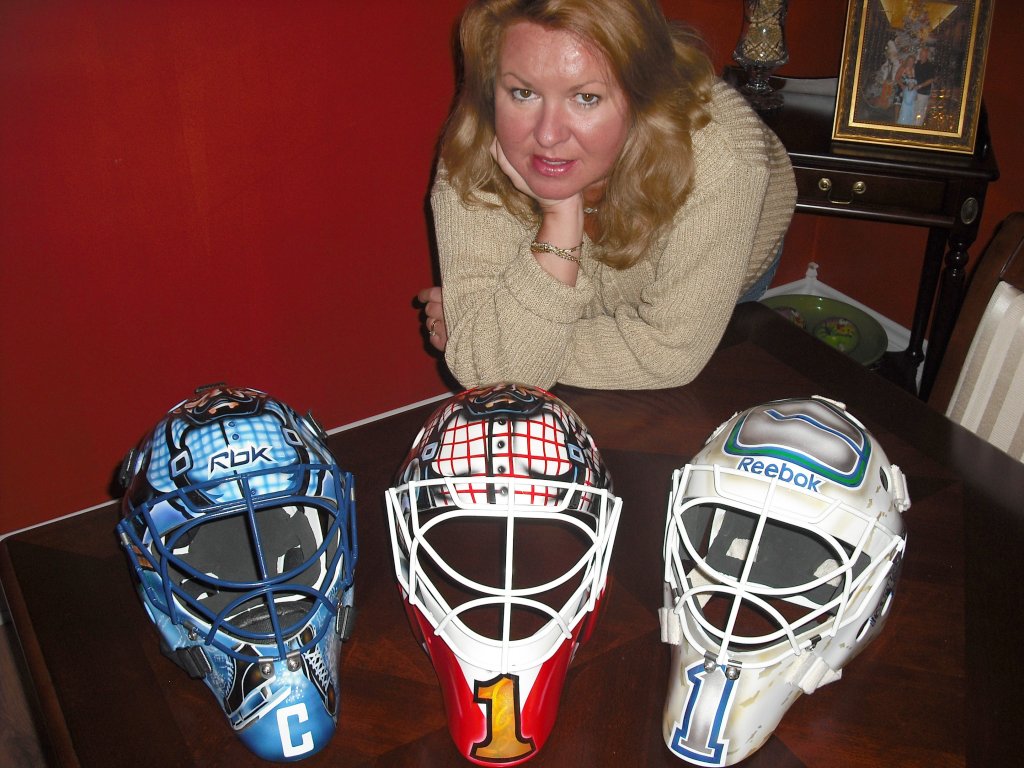 Some of Roberto Luongo's Latest Creations - February 2010

Marlene with some of Roberto's latest designs, including Vancouver Johnny Canuck, 2010 Olympic and Vancouver Vintage.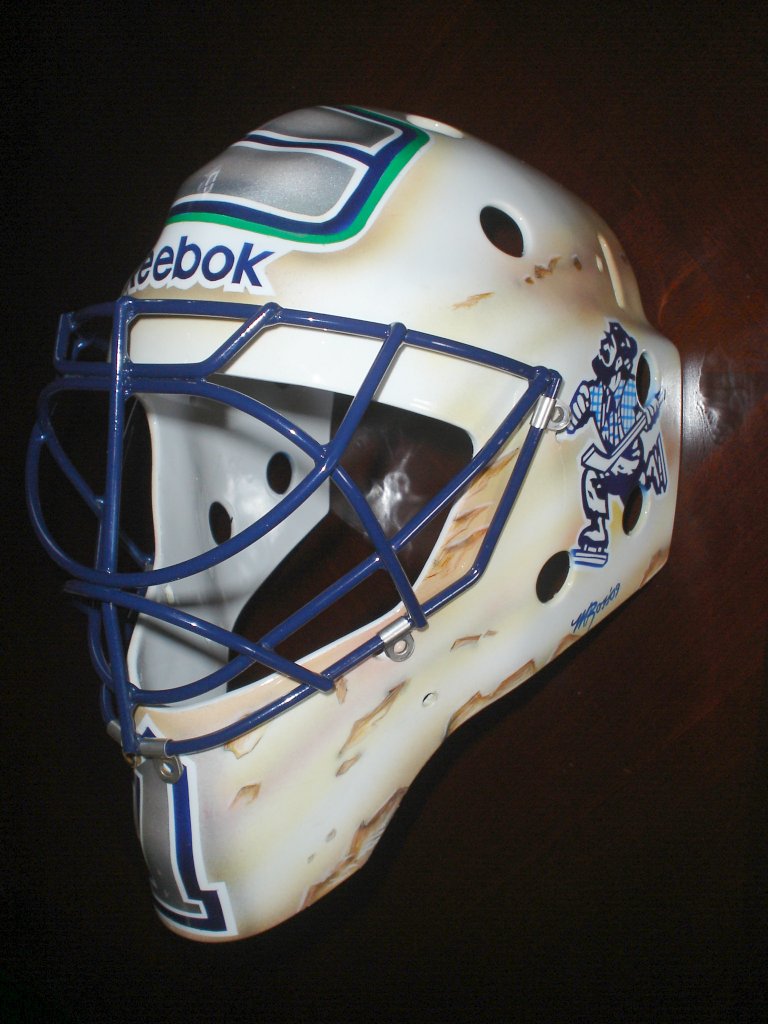 Roberto Luongo's Vintage Mask Voted #1 - October 2009

Based on a TSN Poll, Roberto Luongo's Vintage Vancouver creation by Marlene, was voted the #1 mask design in the NHL, by the viewers.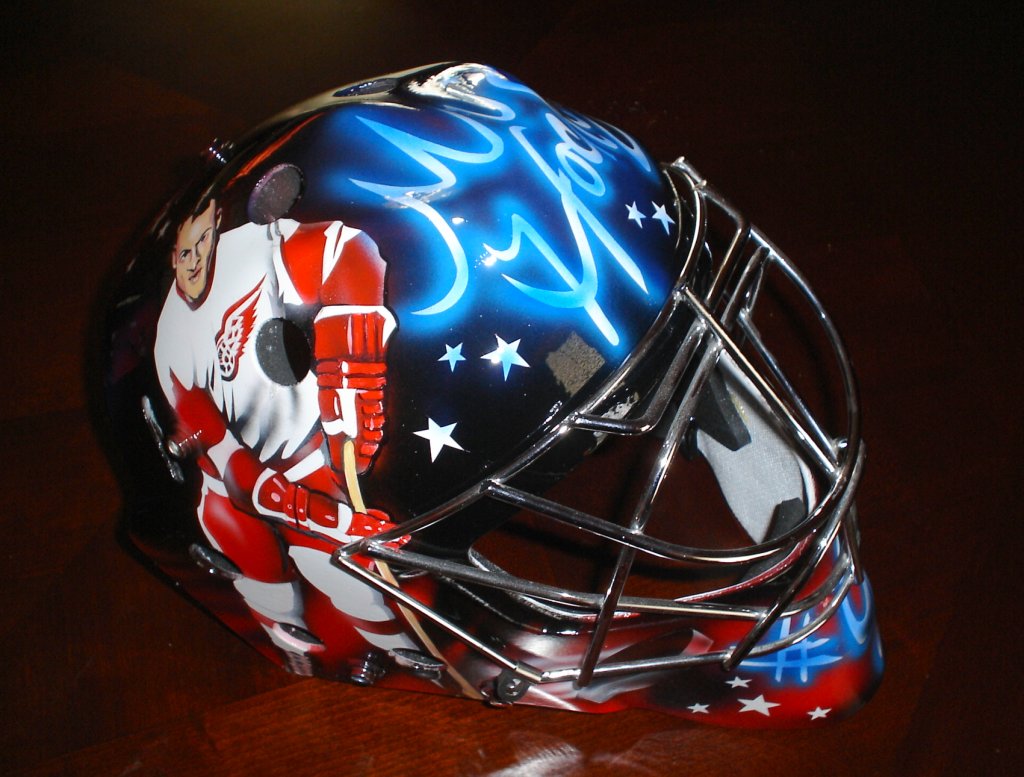 Gordie Howe "Mr. Hockey" Tribute - March 2009
As a tribute to the great hockey legend, Gordie Howe, Marlene created this special design which was presented to "Mr. Hockey", as part of his 80th birthday celebration.
Roberto Luongo's New Johnny Canuck Mask - October 2007

This year's theme of the latest creation by Marlene, for Vancouver Canucks star goaltender, Roberto Luongo, is that of "Johnny Canuck", which was once again an intensive collaborative effort by Marlene and Roberto.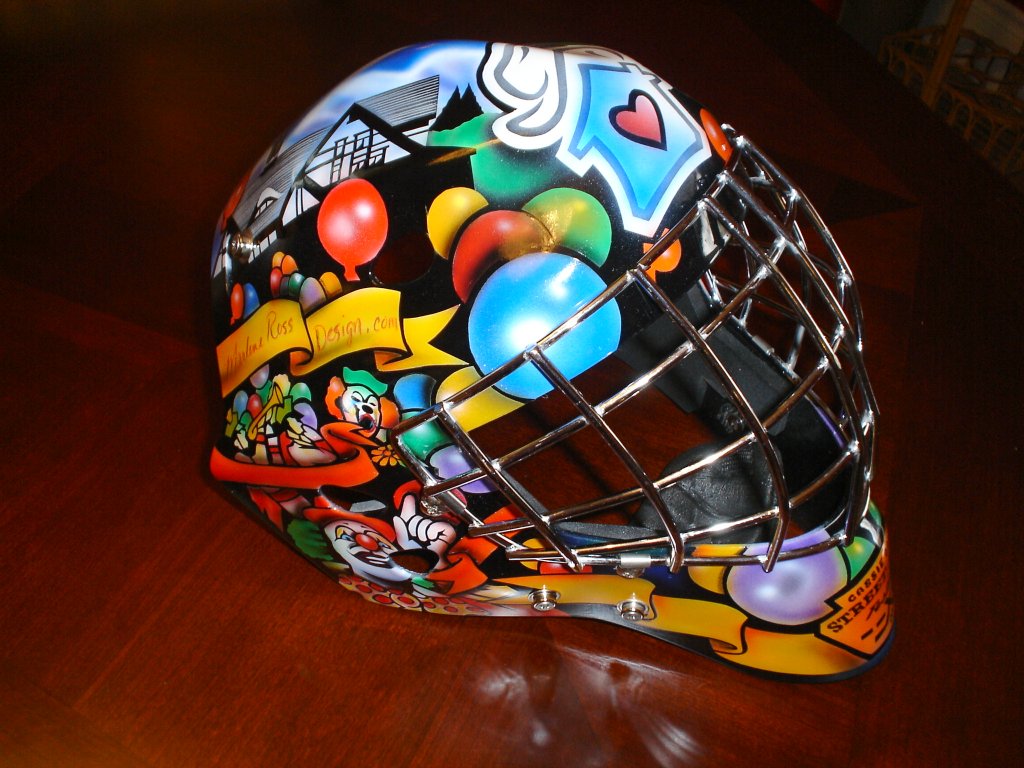 Ronald McDonald House - April 2007

Marlene has created a commemorative mask design for Ronald McDonald House of Southern Alberta. The mask depicts "The Festival", surrounding the 2007 Cassie Campbell Street Hockey Tournament held at the Olympic Oval in Calgary this month.
Marlene is proud to support the continued efforts of RMH as they provide a supportive environment for the families of sick children.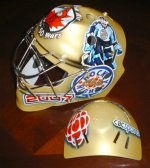 Hockey Night in Canada - "Behind the Mask 2006/2007"

In April of 2007, CBC Sports, Hockey Night In Canada, 2006/2007 "Behind The Mask" competition winning design, has been once again painted by Marlene.
This years mask design is a tribute to over 50 years of broadcast excellence.
Roberto Luongo's New Vancouver Canucks Mask - September 2006

The new mask design created by Marlene for Vancouver Canucks goaltender, Roberto Luongo was unveiled in Vancouver Sept.16th at the team practice.
This design was a collaborative effort by Roberto and Marlene hi-lighting the Vancouver skyline, a bear ripping apart an old style goalie mask and a whale's tail on the chin.
The back plate illustrates the bear having gone through the Lion's Gate Bridge, and a memento to Roberto's past years masks, with the Pink Panthers tail curling from under the hockey sweater.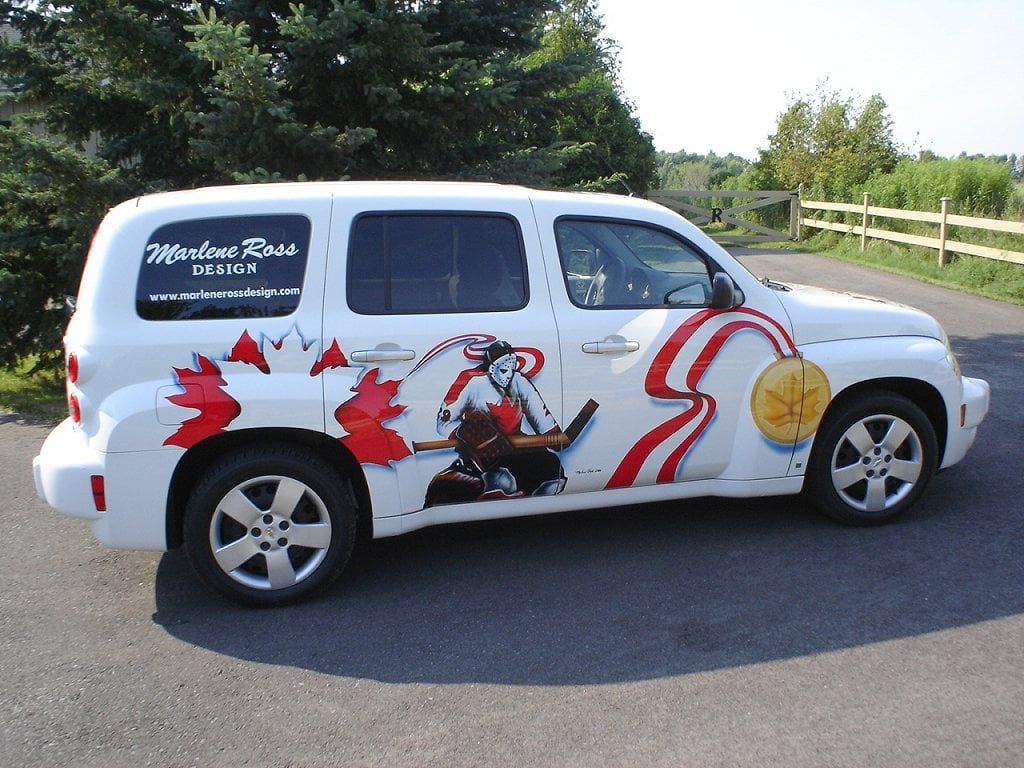 Marlene Ross Signature 2006 Chevrolet HHR - July 2006
A specially painted vehicle by Marlene, will showcase the Ontario Senior Games Winterfest 2007. This custom painted vehicle, know as the "Marlene Ross Signature 2006 Chevrolet HHR", will be appearing at venues throughout the Province of Ontario, to promote the upcoming games being held in February, 2007. Marlene who has been creating original pieces of art for almost two decades, undertook this latest endeavor by designing and painting the "Canadian Quest for Gold" theme on the Chevrolet vehicle. Through commemorative games pin sales, at the end of the Ontario Senior Games one lucky person had an opportunity to drive away in this HHR.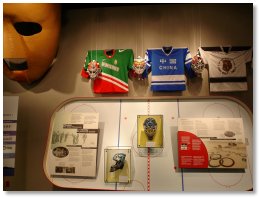 Canadian Museum of Science and Technology - May 2006
The Canadian Museum of Science and Technology in the Nations Capital, Ottawa, Ontario, has recently honored Marlene and displays pieces of her NHL and International Competition Mask Art.
Marlene as an International ambassador of the sport of hockey, known as Canada's national pastime, was very honored, as a proud Canadian.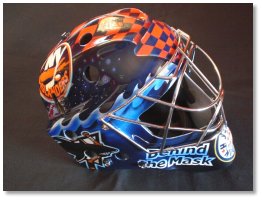 Hockey Night in Canada - "Behind the Mask 2005/2006"

In April of 2006, CBC Sports, Hockey Night In Canada, enlisted Marlene to paint the winning Mask Design for the "Behind The Mask" design contest for the 2005/2006 season.
The mask design is a tribute to the career of the shows co-host, Kelly Hrudey.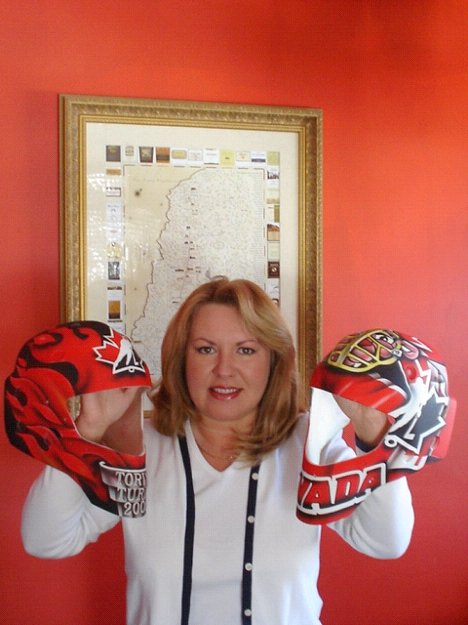 Torino 2006 Olympics - February 2006

Torino Olympic goaltenders Martin Brodeur and Roberto Luongo will be representing Canada with new mask creations, designed and painted by Marlene. These works are the latest in a long line of Olympic and World Cup competition masks Marlene has created. The Brodeur design depicts a tradition of both Marlene's and Martin's ideas over the years of International competition. Roberto Luongo's new design is a collaboration of his Florida Panthers mask motif, with a Team Canada theme.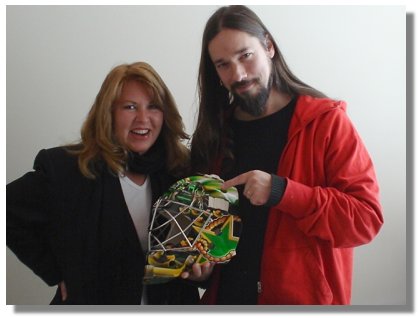 Tragically Hip Tribute Mask - March 2005
Marlene creates a commemorative tribute mask design of the "Tragically Hip" rock band. Endorsed by the Hip and being worn by goaltender Mike Smith of the NHL's Dallas Stars organization, the mask depicts a scene of Mike's favorite band, with the five members, Rob Baker, Paul Langlois, Johnny Fay, Gord Sinclair and Gord Downie in concert on the forehead. With the "Hip" covering one ear, the Dallas Stars logo over the other, a breaded western rope is lassoing both while an audience of Stetson hats looks on. A set of Texas longhorns stretches across the chin in the foreground. Of Marlene's creation upon Mike's request, on behalf of the Hip, lead guitarist Rob Baker seen in the attached photo with Marlene, says "we were totally surprised and honoured".

2003 NHL Awards
June 12, 2003, at the 2003 NHL Awards Gala and Television Special held at the Metro Toronto Convention Centre in Toronto Ontario, Marlene presented one of her Mask Art Clients, New Jersey Devils goalie Martin Brodeur with the Vezina Trophy, as the NHL's top goaltender.
This was a proud day for both Marlene and Martin, as it was Marlene's first appearance presenting and Martin's first Vezina, at the NHL's most celebrated annual gala. Also, highlighted in the CBC Sports Hockey Night In Canada television broadcast segment, hosted by Ron MacLean, were some of Marlene's actual pieces of NHL Mask Art, illustrating her illustrious career as a Mask Art veteran in the NHL.